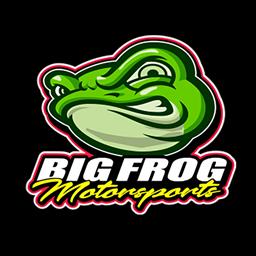 2/12/2021
---
Bailes places 12th in DIRTcar Nationals opener at Volusia
Ross Bailes and the Big Frog Motorsports team returned to action on Monday night at Volusia Speedway Park (Barberville, Fla.) for the opening round of the 50th annual DIRTcar Nationals. Drawing 51 cars, Ross secured his spot into the opening night feature with a runner-up finish in his heat behind Brandon Overton. With $7,000 on the line, Bailes dropped two positions in the 30-lap affair to finish 12th. (Josh James Artwork)
The following night for another $7,000-to-win A-Main, Bailes had to rely on a provisional into the feature after failing to transfer out of his heat race and B-Main. Rolling off 25th, Ross advanced through the field nine spots to register a 16th-place outing.
On Wednesday evening, Ross was 51 cars on hand as the remainder of the DIRTcar Nationals weekend shifted under World of Outlaws Morton Buildings Late Model Series banner. Following the fifth fastest time in his qualifying group, Bailes scored a second-place finish in his heat behind Devin Moran, which positioned him 10th on the starting grid for the A-Main. Clawing forward three spots in the 40-lap affair, Ross notched a seventh-place finish.
For the fourth round of the 50th annual DIRTcar Nationals on Thursday, Bailes managed to place fourth in his heat after a Mother Nature delayed the program for nearly three hours. Coming one spot shy of a transfer position in his B-Main with a fourth-place finish, Ross had to resort to a provisional into the show. Advancing through the field 16 spots in the 40-lapper, Bailes claimed a 12th-place outing.
On Friday night with the field reduced to 38 cars, Ross came short of a transfer position in his heat and B-Main, but was granted a provisional into the $10,000-to-win A-Main. Marching forward eight spots in the 40-lap affair, Bailes recorded a 15th-place finish.
Saturday night's $10,000-to-win finale fell victim to Mother Nature.
Back to News